When doing your family research, you may think you know of a family you believe you are related to, but you do not know much about them. Luckily there are things you can do to find out more about your long-lost family.
If you are looking for a lost and missing relative online, one of the first things you should do is talk to relatives you know to see if they may have the information you did not know. Then go online to search to see if you can find any information online. You can also consider taking a DNA genealogy test and going online to find ancestors' records who have already passed away.
Below are five ways to actively look to find a lost or missing relative through an online search.
1. Gather Information From Relatives You Know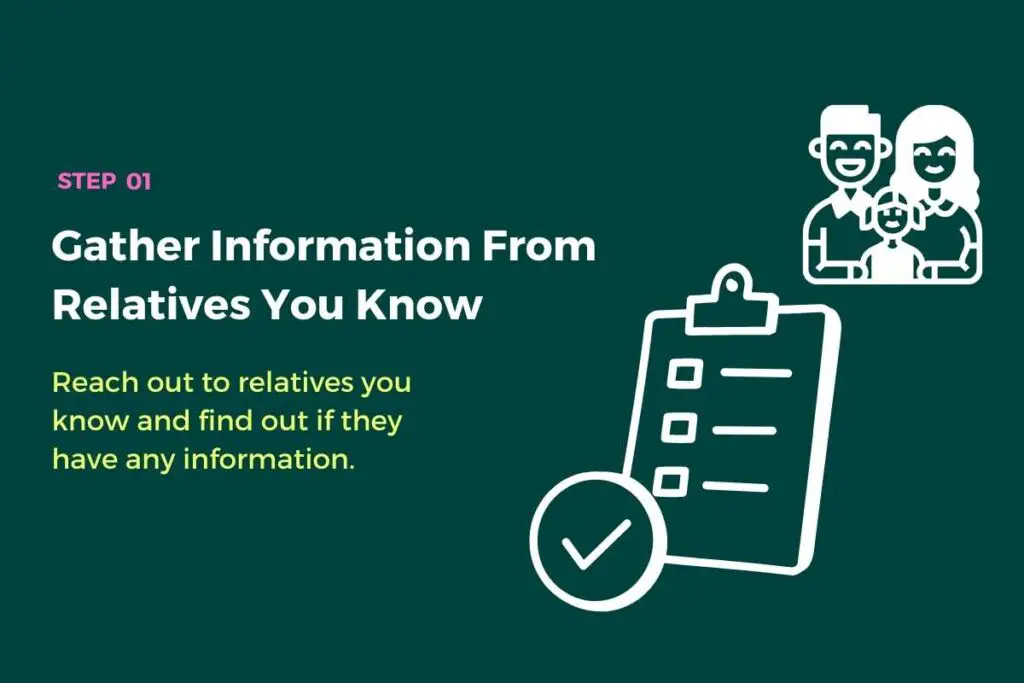 Whenever you're looking to gather information on a relative, whether it is somebody who is still living or has passed away, it is best that you first start close to home. Reach out to relatives you know and find out if they have any information.
We recommend that you start with the oldest living relative that you know. You may often find that they have information about your relatives you did not know they had. They may have the knowledge, but you never asked them the right questions, so they did not think you were interested.
Whatever the reason, it is best to start closer to home and talk to the relatives you already know or ask those relatives for contacts of other relatives they know and see if anybody within your circle of friends or family may have any relevant information.
In some circumstances, a neighbor may also have relevant information. If you have a neighbor that has lived hear your family for a long time, they may know things about your family you did not know.
2. Check Online And Social Media For Lost Relatives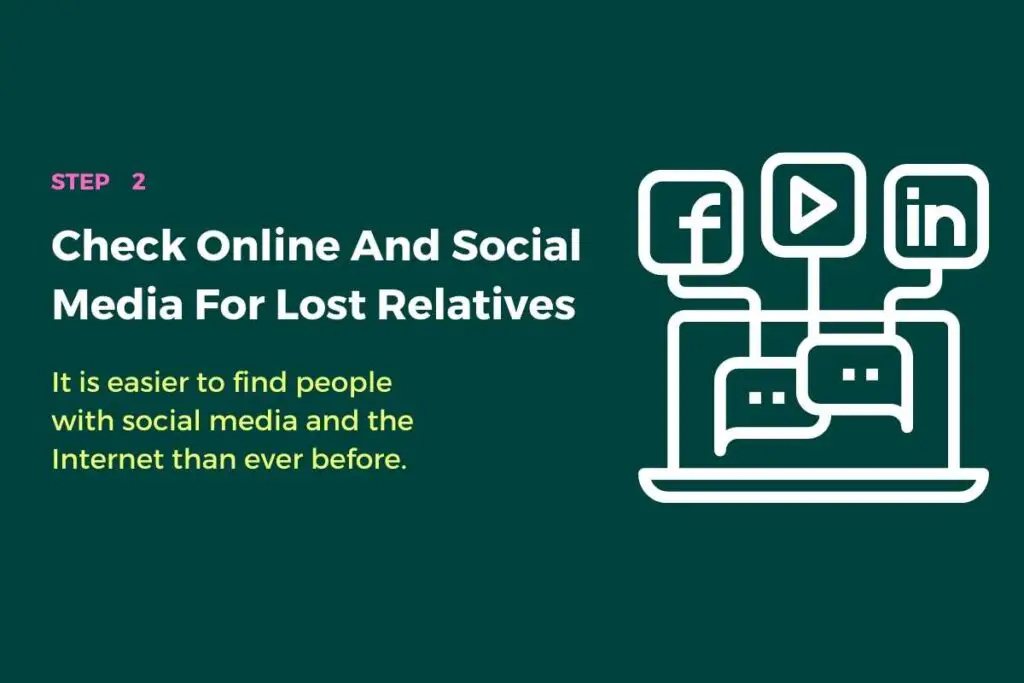 Next, you can check online or check social media. Recently we were looking for a long-lost cousin in Germany. We first checked all the information we had, and then we went online and checked social media.
Because we knew from the information we had that he lived in Hamburg, Germany, and seemed to work for the movie industry there, we could locate a company that looked to be his company. We forwarded a letter to him and eventually got a response.
It is easier to find people with social media and the Internet than ever before. But one of the keys to finding our long-lost relative in Germany was that we already had some relevant information about him because of letters that we found that his mother had sent to one of our relatives.
3. Take A DNA Test To Find Lost Relatives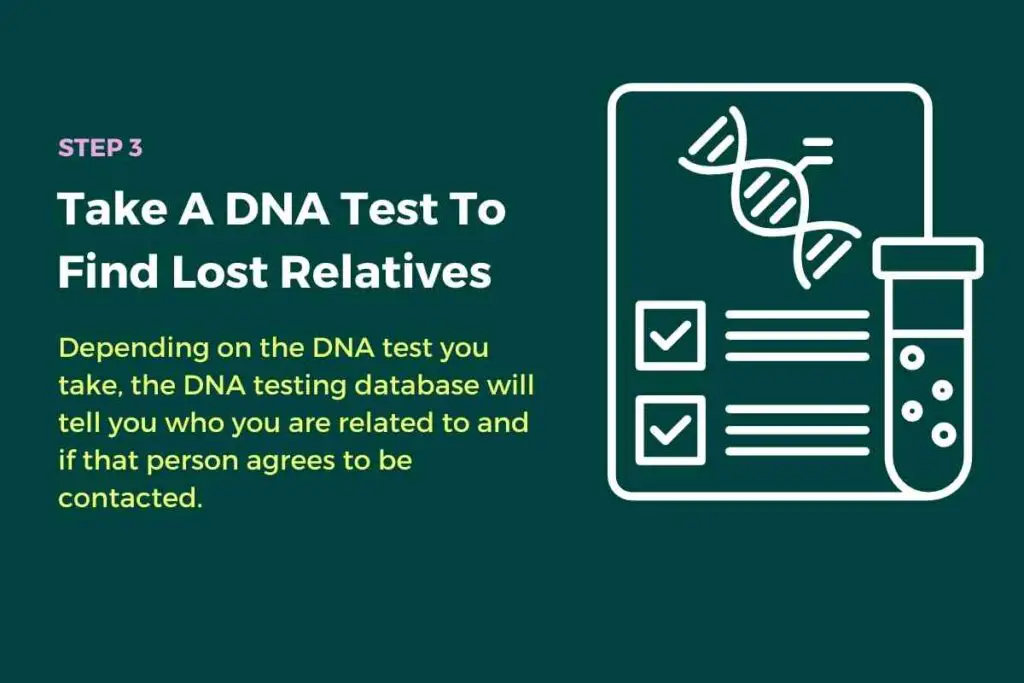 Many people have been able to find family members or relatives by taking a DNA genealogy test. Some adopted people have been able to find a biological family after taking a DNA test.
Depending on the DNA test you take, the DNA testing database will tell you who you are related to and if that person agrees to be contacted. One of the keys to getting this information is that you can only find them if your relatives have also taken the same DNA test and are in their database.
In other words, the more extensive the database of DNA records that the company has, the more the opportunity you have to find a long-lost relative or family through your DNA matching.
4. Check Online Records To Find Ancestors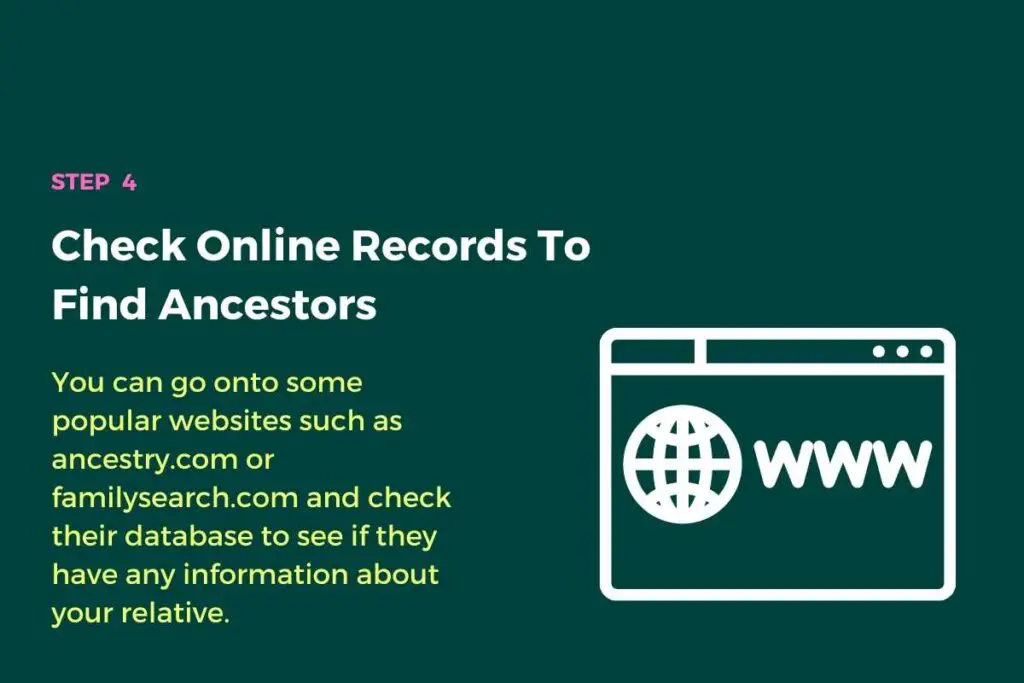 If you were looking for a relative or a family member that you know has already passed away, you may be able to find some records of them on the ancestry or FamilySearch websites. You can check the genealogy databases and records to see if they have any information about your relative.
You will need to have some basic information such as their name, where they live, and other information. If they immigrated to the United States, it would be best if you knew about the year that the immigrant to the United States if you're going to be checking immigration records.
These records are only available for those individuals who have been who have passed away a while ago. If someone recently passed away, you will not find them in these records, but it would be better to search online and check for the obituaries; today, many obituaries are online.
5. Use Other Web Services To Find Missing People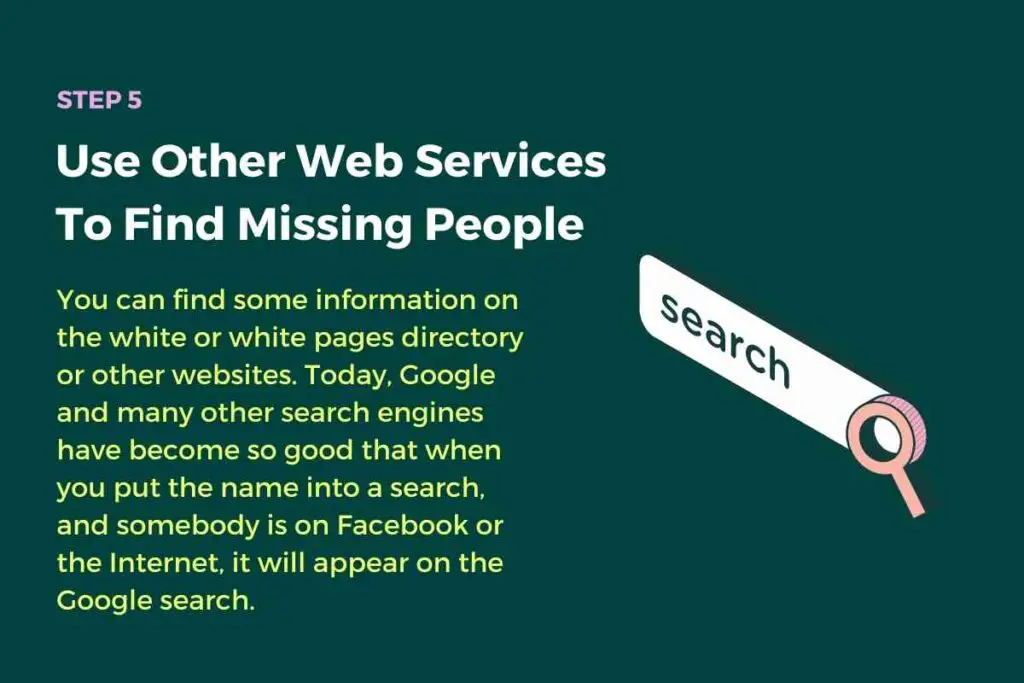 If you have done all the steps above and still cannot find the missing person and believe that person is still living, you can try to use one of the missing friends or relatives by searching websites such as Pipi, Zara Search, and Yonames.
Sometimes you can find some information on the white or white pages directory or other websites. Today, Google and many other search engines have become so good that when you put the name into a search, and somebody is on Facebook or the Internet, it will appear on the Google search.
If nothing does show up, paid database services may give you relevant information that is not available on a regular unpaid search.

In today's world, if you cannot find somebody on the Internet, either they do not have much of a social media or Internet footprint, or they do not want to be found. If someone does not want to be found, you may need to accept that fact, respect their privacy, and move on.
The Hummel Family is a website all about Family History research. Our focus is on Swedish, German, English, Scottish, and American Genealogy. We also talk a lot about Asia and China as we had ancestors who spent many years in China.
You are welcome to join us and become part of our community by signing up for our FREE newsletter, The Hummel Family; sign up by clicking here.
Related Content
What Is The Purpose of Genealogy?
Genealogy aims to study family, family history and trace our lineage or ancestors. The purpose of genealogy goes far beyond our ancestors' dates, names, and places. You learn more about your family and yourself as you do your genealogy. Genealogy helps unite and link families together by discovering things you did not know about your family.
By clicking here, you can learn more about Genealogy by reading our blog, What Is The Purpose of Genealogy?.
How Accurate Is Ancestry.com Family Tree Hints?
When many people are working on their genealogy, they wonder how accurate many of the ancestry.com family tree hints are. They wonder if they should trust them or if they should ignore them.
I have found many of the ancestry hints to be accurate, but like any good research, you need to verify any of the hints they have given you. You should confirm the name, location, date, and other relevant information.
By clicking here, you can learn more about Genealogy by reading our blog, How Accurate Is Ancestry.com Family Tree Hints?.