Santa Lucia holds an extraordinary place in the hearts of the people of Sweden. Santa Lucia represents charity and love while at the same time bringing light to the cold long winter nights.
Santa Lucia is an Italian Saint that died as a martyr; she is one of the earliest Christian saints to achieve widespread popularity.  Santa Lucia is remembered and celebrated each December 13th in Sweden.  On December 13th, one of the darkest days of the year, Santa Lucia goes throughout Sweden as a symbol of light and hope.
This is quite a long video, but it shows a beautiful Santa Lucia program from a Swedish Television station. You can see how beautiful the Santa Lucia celebration is on a dark, cold winter morning.
Who Was Santa Lucia?
Santa Lucia appears once each year in Sweden on December 13th to usher in the Christmas season. But the legend of Santa Lucia goes back to 304 AD in Syracuse or present-day Sicily, Italy. Santa Lucia is also known as St. Lucy, Saint Lucia, Sankta Lucia.
Santa Lucia is an Italian saint that was said to have died as a virgin and martyr. Santa Lucia was one of the earliest Christian saints to achieve widespread popularity. Even as early as the 5th century, she was a popular Saint.
Santa Lucia is also the patron saint of Syracuse (Sicily) and the saint of virgins. Many traditions associate her name with light, so Santa Lucia us thought of as a patron of sight.
Santa Lucia lived during the time of the Roman Emperor Diocletian. The Roman Emperor Diocletian was the last Roman emperor to persecute many Christians brutally.
According to the apocryphal or sacred texts, Santa Lucia came from a wealthy Sicilian family and was a devote Christian. She was known to take food to Christians hiding from Roman persecution. She would put candles on a wreath around her head to light the way to serve food to the Christians that were in hiding.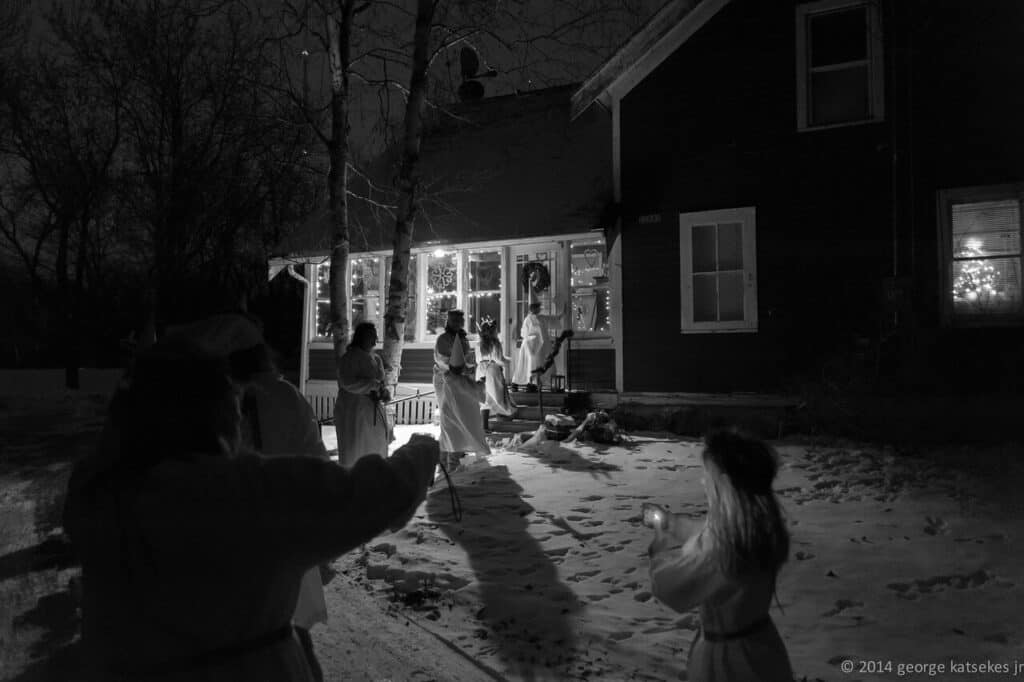 Many of the Santa Lucia statues or paintings show Santa Lucia with a sword going into her neck. Other artists feature her as a blind girl holding a lamp.
Others legends say that her family was trying to force Lucia to marry a young pagan but she refused to marry him. The law of the day, allowed him to turn Lucia into the authorities, so she was sentenced to a life of prostitution in a brothel.
When Lucia was sentenced to go to the brothel – by divine intervention – she was immovable and the authorities could not carry her away. Next, they tried to burn her by fire, but the flames could not burn her. Finally, her neck was pierced with a sword, and she died.
Other legends say that Lucia decided not to get married and to also forego all her worldly goods. She vowed to remain a virgin in the tradition of St Agatha. Saint Agatha is considered the patron saint of rape victims, breast cancer patients, wet nurses, and bellfounders.
Another legend says that Lucia was about to get married, and she gave her entire dowry to the poor of her village. She was known not to be afraid to testify of her Christian faith and beliefs. Other legend says that Santa Lucia was accused of witchcraft and was burned at the stake or she was made blind as a punishment.
The truth is that we are not really sure if she was blind, burned at the stake, killed by a sword, or lived her life in forced prostitution. We do know that references to Santa Lucia are found in early Roman sacramentaries in Sicily and that the fame of Saint Lucia spread throughout Europe.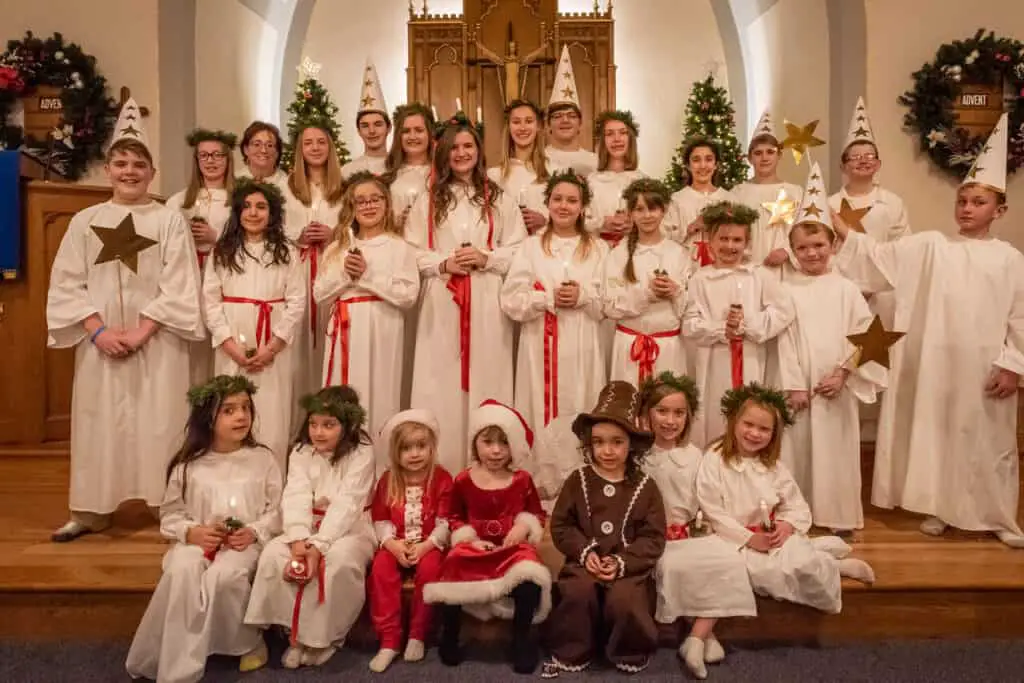 The Swedish Santa Lucia Legend
No one really knows how Santa Lucia became so revered in Sweden. One of my favorite Santa Lucia legends is the Swedish Santa Lucia legend as told by my mother, Anne-Marie Hummel. My mother Anne-Marie was born and raised in Stockholm, Sweden, so we grew up celebrating Santa Lucia each year.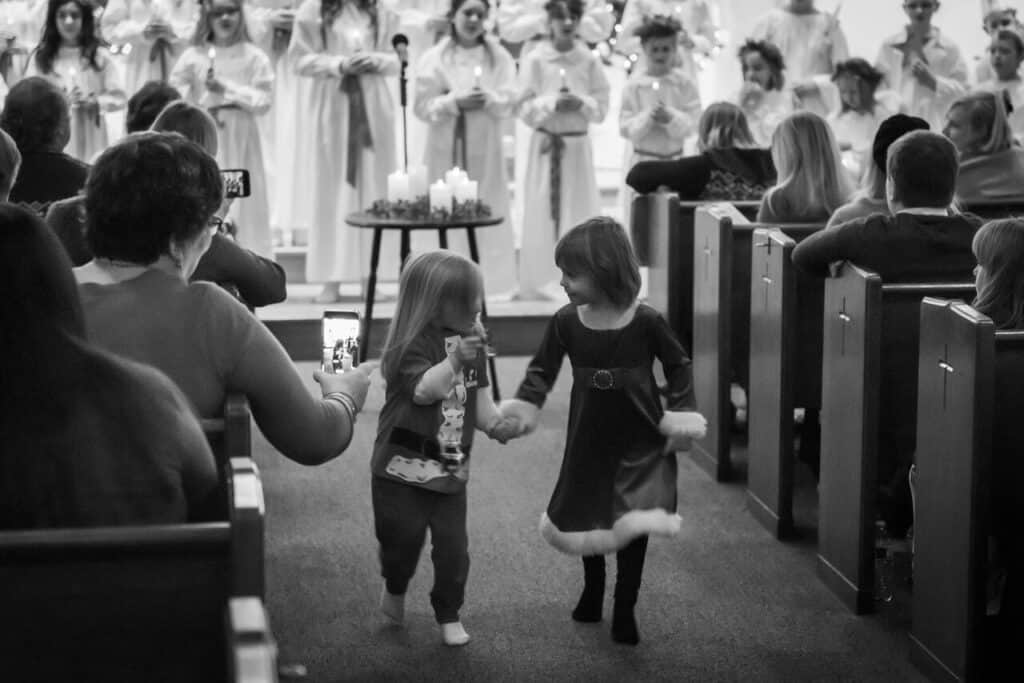 The Lucia Legend by Anne-Marie Hummel
Santa Lucia holds an exceptional place in the hearts of the people in Sweden.  She represents charity and love for all men, along with beautiful and shining light during a very long, cold, dark winter.  During the darkest time of the year, Lucia comes as a symbol of light and hope. Today more than ever, the world needs that message of light and hope.
Santa Lucia appears only once each year, on December 13th, to usher in the Christmas season.   The Legend of Lucia goes back to the year 304 AD in Syracuse, Italy. There was the beautiful Lucia, a highborn maiden who lived with her parents, and it is also in that city that Lucia suffered a martyr's death for becoming a Christian.
In the early days of Christian persecution, she was a courageous woman who brought food to her fellow Christians, who were hiding in the catacombs from the pagan persecutors. Lucia put the candles in her hair to light her way so she could carry her offerings with both hands. Lucia administered to the poor, bringing them food and also hope.
The legend tells us, the maiden Lucia became a saint. Among the Scandinavian countries, Sweden is perhaps the country where the Lucia celebration has its deepest roots. Tales of Lucia's courage were carried to the Northern Scandinavian countries by missionaries.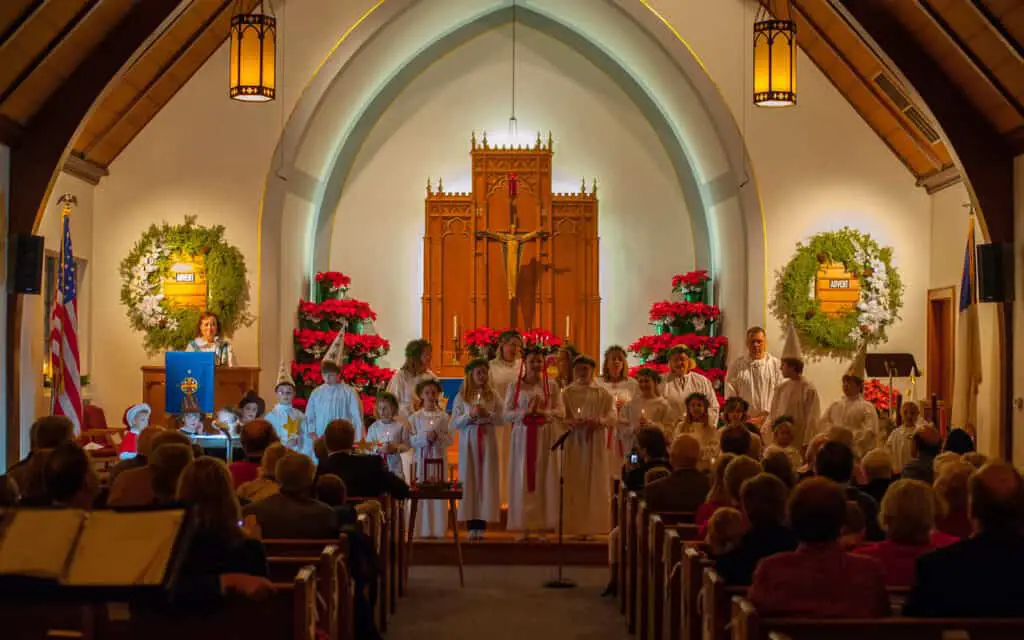 Early, in the darkness of the morning, on the 13th of December, Lucia appears dressed in a white dress with flowing red ribbon around her waist and a crown of candles on her head. Her attendants and star boys accompany her. They go from house to house in the darkness of the morning, singing and offering hot coffee, cookies, and a special Lucia bread made with saffron. 
In many homes, the oldest daughter awakens her parents on December 13th dressed as Santa Lucia. Santa Lucia can also be found in restaurants, offices, schools, and factories surrounded by her attendants. In Stockholm, a Lucia queen of the year is chosen.  A great ceremony is held at the Town Hall.  The crowned Lucia visits the hospitals and nursing homes during the Christmas season.
Today more than ever, the world needs Santa Lucia's message of light and hope. Santa Lucia with her lights appears on the longest, darkest night of the year, bringing joy and love to her family and friends.
No matter how dark and difficult our days may be, we look forward to celebrating Christmas as our Savior's birth. We have gratitude in our hearts for the joy and love that our Savior brings into our lives. Santa Lucia helps to remind us of our Savior Jesus Christ's influence and light in our lives and to live our lives with more kindness, respect, love, and concern for others.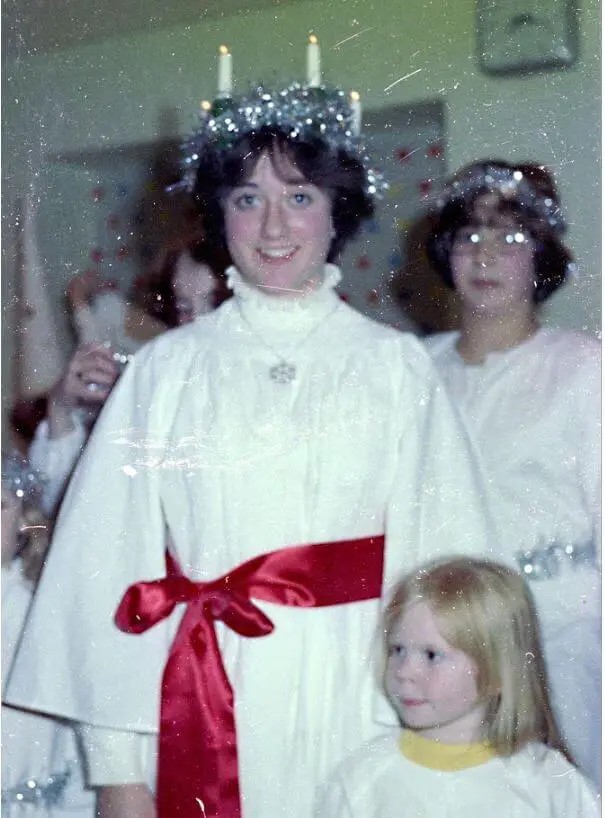 Why do The Swedes celebrate Santa Lucia?
How the Christian Saint Lucia from Italy made her way up to Sweden to be celebrated each year on December 13th, no one seems to really know but it was probably through Christian missionaries. What we do know is that for hundreds of years the Swedes have been celebrating the Italian Saint of Lucia as their own Santa Lucia.
Santa Lucia is celebrated each year in Sweden on December 13th. The significance of December 13th is that for the Julien Calendar, December 13th marks the shortest and darkest day of the year.
The December 13th celebration of Santa Lucia is the official start of the Swedish Christmas celebrations. Santa Lucia and her attendants will dress in white. Santa Lucia will wear candles on her head that symbolizes light in the dark, cold winter months. Some Swedish Santa Lucia legends says that Santa Lucia and her attendants carried food and drink to hungry people in the province of Värmland, Sweden.
Traditionally Santa Lucia was the oldest daughter of a family, and her attendants were her brothers and sisters. On December 13th, Santa Lucia would wear candles on her head while carrying a tray of "S" shaped Saffon buns to her parents for breakfast. Her attendants would also be dressed in white and carry candles to light the way. While walking with the saffron buns and candles, they will sing the Swedish Santa Lucia song.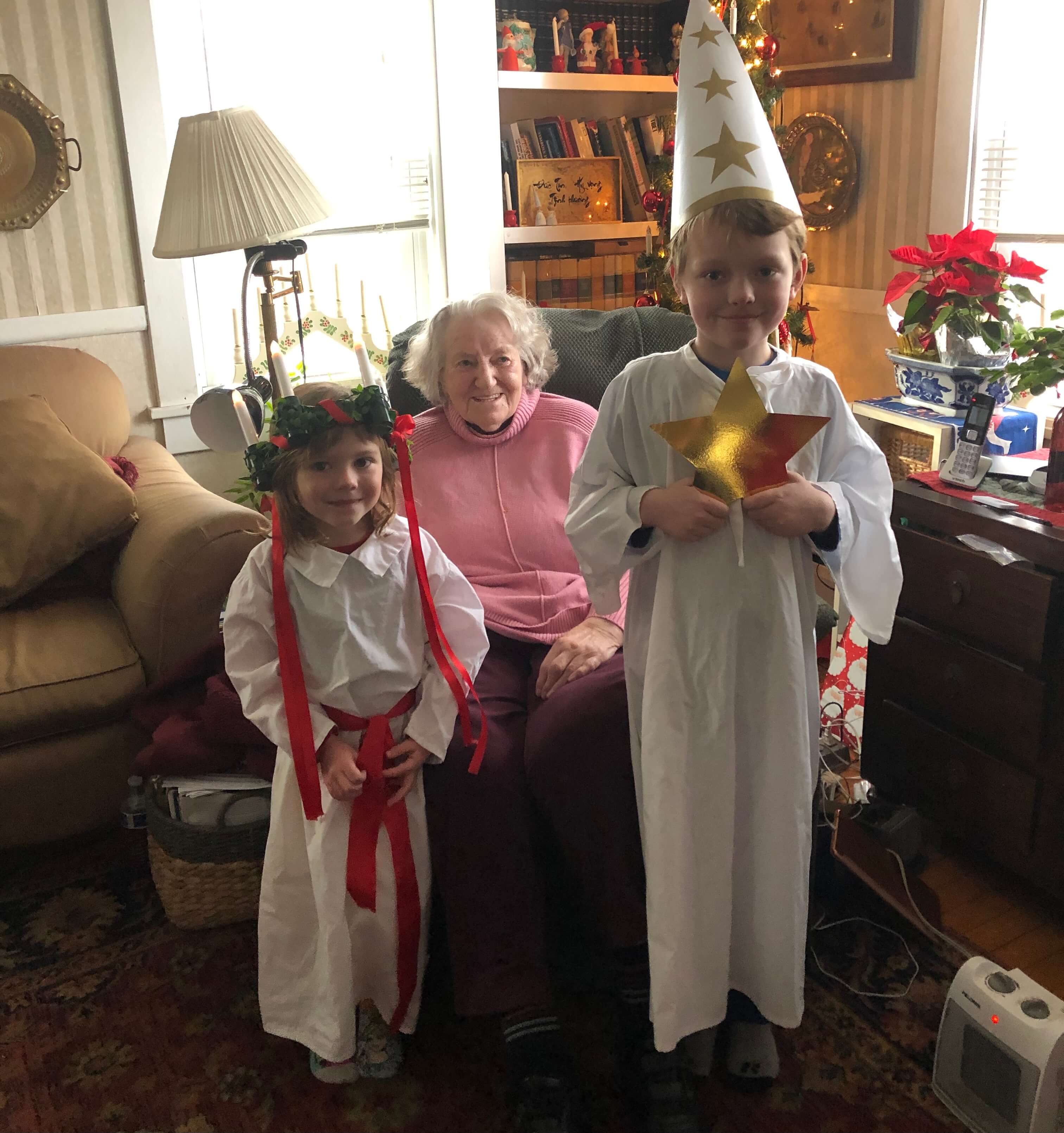 Santa Lucia Swedish Symbolic Meanings
The Swedish Santa Lucia ceremony is also rich with a lot of symbols. Here are some of the symbols of the Swedish Santa Lucia holiday that takes place on December 13th each year:
Longest and Darkest Night – December 13th is the longest and darkest night of the year on the former Julien calendar. Santa Lucia is the symbol to bring light to the world.
Lucia is the Oldest Daughter – Traditionally, the eldest daughter of the family would dress in a white robe and wear an evergreen crown on her head filled with candles to be the Santa Lucia.
Santa Lucia Attendants – Santa Lucia would have two kind of attendants – The boys who were the star boys who symbolized the stars in heaven and the girl who is her attendants with candles to help her light the way.
Candles Symbolize Light – The candles that Santa Lucia wears are symbols of light in times of darkness. Traditionally the candles they used were real candles, but today, most of the candles are electric.
Red Sash – The red sash that Santa Lucia wears is the symbol of her martyred blood.
Crown of Holly and Lingonberries – Santa Lucia wears a crown of holly and lingonberries. The crown symbolizes the crown of thorns that was put on Christ's head leading up to his crucifixion.
'Santa Lucia is a beautiful Swedish Christmas holiday tradition that brings in the spirit of the Christmas season. The Santa Lucia holiday is about bringing light to a dark world. Today more than ever, the world continues to need this message of spreading light in the darkness.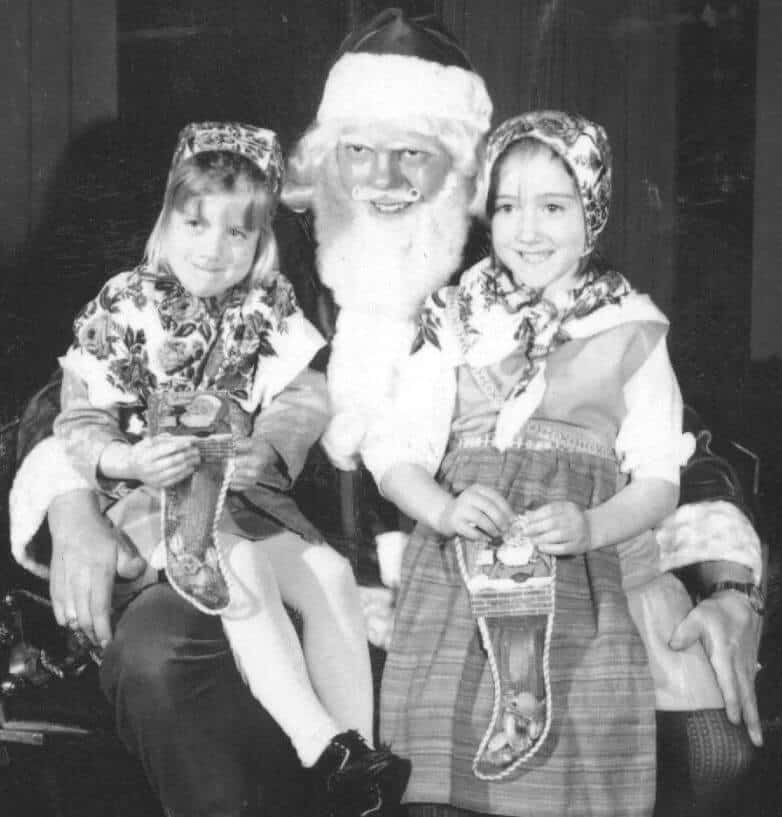 Related Questions
Why Do So Many Swedish Last Names End in Son?
When doing your Swedish family history research, one of the most important things you need to understand is how Swedish last names work. Many Swedish last names have the ending of "son or "sson" as they are patronymic names.
You can find out more by reading our blog Why Do So Many Swedish Last Names End in Son? by clicking here.
What Are The Swedish Mantal Tax Records?
The Swedish Mantal tax system was the tax system prevalent in Sweden for over 300 years. The Mantal tax was a tax placed upon Swedish households and people. The Mantal tax system was organized and structured.
Discover more by reading our blog What Are The Swedish Mantal Tax Records? History & Genealogy Research Tips by clicking here.