Today as more and more people think about their family's ancestors, they also think about their genealogy. So the question we can ask ourselves is, what is the purpose of genealogy?
The purpose of genealogy is to study family, family history, and the tracing of our lineage or our ancestors. The purpose of genealogy goes far beyond the dates, names, and places of our ancestors.   This is because as you do your genealogy, you learn more about your family and yourself.  Genealogy helps to unite and link families as you discover things about your family that you did not know.   
Table of Contents
It can be said that genealogy is a work of self and family discovery.   
Through Genealogy, You Discover Yourself
As you do your genealogy, you will discover more about your family and some relatives you did not know.
For example, when people ask me what nationality I am, I will often tell them I am half Swedish and I have some German and English blood. This is how I identify myself – yes, I am an American. Still, I also have many Swedish, German, and English ancestors; I also identify with them as important.
If you are going, to sum up the purpose of genealogy, I will sum it up as the ability to learn more about yourself as you learn about your ancestors. The more you discover your ancestors, the more you will discover about yourself.
I have a great-grandfather, Lewis Bookwalter.  In the mid-1920s, when he was in his 80s, his wife died. He decided to travel and take on a new adventure.   His daughter, my grandmother, Ruth, lived in  Peking (Beijing), China, with my grandfather, aunt, and uncle. Grandfather Lewis also had another daughter, Lulu working in Ceylon or present-day Sri Lanka.  Great-Grandfather Lewis left a comfortable home in America and traveled by ship to China to visit his daughter Ruth and her family.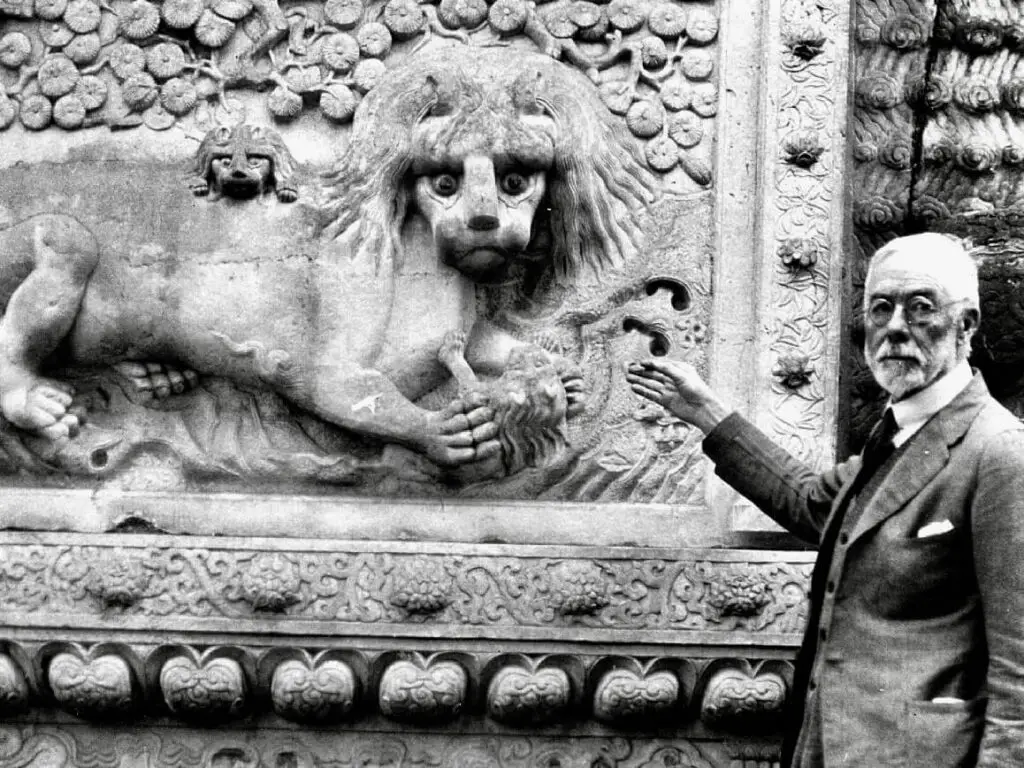 While in Beijing, he taught Ancient languages at the University.  Here was this 80-year-old tall, skinny man with grey hair and a beard, living in Beijing in the 1920s and teaching at the University.  What an adventure that must have been.  After four years of living in Beijing, he boarded a steamer ship to travel to Ceylon or Sri Lanka to visit his daughter Lulu who was running a Christian school there.   
Great-Grandfather Lewis took a freighter ship from China.  The ship stopped 10 days in the Philippines. He writes of spending 10 days walking the streets of Manila waiting for the next ship that would take him to Sri Lanka.  
I am not sure what Manila was like in the late 1920s.   But I do know it is certainly not like the Manila we know today.
As I learn about my great-grandfather's adventures, I learn something about myself and my life.  I feel like I can relate to Great Grandfather Lewis Bookwalter.   
I have spent most of my life living and working overseas.  This means I am an ex-pat living away from my country – America.     So I know a bit about leaving your homeland and family and living in an unfamiliar country or place.  
I learned a bit about my great grandfather Lewis Bookwalter; I also learned about myself. I learn that maybe what I am doing by living overseas is not so unusual for my family. Since my ancestors, who had also gone before me, also took a similar route in life.
As you do your genealogy research, you discover not about your family but also yourself. Genealogy helps you know where you are from and helps you discover who you are.
Genealogy Helps Unites Families
Genealogy can help you to unite families. Not every family is united.  Not every family wants their stories to be told. But as you do your genealogy, you will meet relatives you maybe did not know.
This is because as you do your genealogy research, you become connected to deceased relatives, but you will also find living ones. Working on genealogy can help you feel an attachment to your relatives and future posterity.
As human beings, we crave connection and belonging.  Genealogy and family history work allows us to connect back in time and link forward to future generations.
By doing your genealogy research, you may find relatives you did not know who are also part of your family line.  You may have a chance to connect to them, which may even help you understand more about your own immediate family.  Genealogy research is the pathway or the door to help you to be able to open these kinds of connections.
Genealogy Helps Connect Your Lineage and History
As you do your genealogy research, you may learn interesting things about your family line that you did not know. You might learn about family connections to important historical events you did not know.    You might find that you were related to a famous person in history.   Or you may learn the true story of an old family story passed down. 
You may become familiar with a namesake as you understand your ancestors and family. You may also better understand some family photographs,  journals,  or other family keepsakes that you may have.   
As we understand some of the struggles and hardships that our family members have gone through, we may find we have greater love and compassion for them, and that may inspire us as we face our challenges in life. This can help us build up our resilience in life as we know the pattern of overcoming from our ancestors who have gone before us.
If you want to know more about yourself, one of the best ways to do this is through genealogical research. As you do this, you will discover more about yourself and discover about your family and those members of your family who have gone before you. And this will be one of the greatest discoveries of all.
The Hummel Family is a website all about Family History research. We focus on Swedish, German, English, Scottish, and American Genealogy. We also discussed Asia and China, as we had ancestors who spent many years in China.
You are welcome to join us and become part of our community by signing up for our FREE newsletter, The Hummel Family; sign up by clicking here.
Check out our Youtube Channel, Family History Buzz, by clicking here.
Related Content
What is the Difference Between Genealogy, Family History, and Ancestry?
Genealogy is about collecting data and verifying your ancestors' data or family members who have gone before you. It is collecting the information and verifying that your ancestors are related to you. Family history is about learning about your ancestors and their lives and stories. Ancestry is who you are related to. Ancestry refers to blood relations but can also refer to a family you are adopted into.
You can learn more by reading the blog The Difference Between Genealogy, Family History, and Ancestry by clicking here.
What Are Things You Discovery By Doing Your Family History Work?
By researching your family history, you can learn about new family members you did not know about. You will learn about the place where your family once lived. And finally, you can discover the traditions and culture of the country your ancestors once lived.
You can discover more by reading our blog 3 Things You Discover By Doing Your Family History by clicking here.